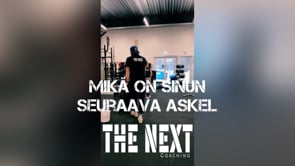 The Next Beginning 2.0 on suora jatkumo ensimmäiselle Beginning- verkkovalmennukselle. The Next Beginning 2.0 osallistuminen edellyttää alkuperäisen The Next Beginning- valmennuksen käymistä.
Tutustu tarkemmin ensimmäiseen ja alkuperäiseen The Next Beginning- valmennukseen!
Tutustu alkuperäiseen Beginning- valmennukseen!
Beginning 2.0 kestää myös kahdeksan viikkoa ja näihin viikkoihin on sisällytetty kaksi kevyempää viikkoa, joissa pääpaino on palautumisessa ja muussa kevyessä liikunnassa. Kolmen ensimmäisen viikon runko säilyy samana tuttuna, neljä harjoitusta + 1 vapaaehtoinen lisäharjoitus, jonka voit aivan hyvin korvata jollain muulla itsellesi tärkeällä liikuntamuodolla! The Next Beginning 2.0 treenit sisältävät samoja elementtejä kuin edeltäjänsä: voima- ja kuntoharjoittelua tulee monessa eri muodossa ja tämän lisäksi taitotreenejä on painotettu hieman aiempaa versiota enemmän. Seuraava neljän viikon sykli, eli viikot 5-8 mukailevat ensimmäistä neljää viikkoa, pitäen siis sisällään kolme kovatehoisempaa treeniviikkoa ja valmennuksen päättävän deload- viikkoon.
Valmennusta varten sinulla on tuttuun tapaan liikepankki koko ajan käytössäsi, joka on laajentunut nyt jo yli 300. liikettä sisältäväksi!
Jos olet suorittanut ja alkuperäisen Beginning- valmennuksen, nyt on Beginning 2.0 vuoro! Pääset jatkamaan oman kehityksesi kanssa siitä, mihin ensimmäisen osan jälkeen jäit!
Haluatko sinäkin olla osa The Next- tiimiä?